Preserved Rose Zodiac Gift Box
Looking for a unique gift for that special Gemini in your life? Our Zodiac-themed evil eye preserved rose each come in a custom-designed white textured box displaying the astrological sign's constellation using powerful crystals. Pretty and powerful, crystals are a key accessory in helping one tune into their soul through energy.  A unique and thoughtful gift for any loved one, astrology fan, or star-obsessed friend. Our preserved roses last up to 3 years and will leave your loved one starstruck! Available in a variety of colors.
Gemini, the third sign in the Zodiac, is the Twins. Those born under the Gemini sign tend to be social, organized, and have a love of learning. Naturally curious and great communicators, Geminis love gifts that show the giver's thoughtfulness and affection.
Roses are natural and their sizes may vary 
Do not water rose, handle with care 
Do not expose to direct light, excessive heat or dust
Rose will radiate natural beauty for up to 3 years
Shipping & Returns

Shipping & Returns

SHIPPING

All Preserved Rose Products will require a minimum 24 hour processing period prior to being scheduled to ship.

Our products will ship with the carrier chosen during checkout unless a conflict with the delivery location is found or a request is made to change.

Shipping Rates and delivery times will vary depending on customer location and delivery options chosen during checkout.

DO YOU GUARANTEE DELIVERY DATES AND TIMES? 

Winter storms, hurricanes, and flooding are just a few reasons why any carrier may experience delivery delays. Because there are some forces of nature that are out of our control, we cannot guarantee delivery times once your order has left our facilities unless our local hand delivery service was selected during checkout.

All Carriers may have issues that would be completely beyond our ability to control which may result in a delay.  We will work to resolve any delay issue with these shipping agents on your behalf in the event it is necessary.

We do guarantee your order will ship on time and in perfect condition from our facility utilizing the shipping option and schedule as requested.

CANCELLATIONS & RETURN POLICY

We understand that packages may not be delivered with the same level of quality and professional attention with which they have been produced.  Things happen during their brief but important travel time from our warehouse to your door.  Make sure to follow the rules of submitting a damaged item in order for our team to be able to determine the issue at hand in a quick and efficient way.
Unfortunately Eternal Roses® does not accept returns on our preserved roses and rose gift boxes once the box is opened. All of our preserved rose arrangements are handcrafted and made to order. Therefore, our products may NOT be returned or exchanged unless it was damaged during transit. All sales are final and no refunds or store credit will be issued. 

Any orders that have damage upon arrival must be photographed immediately as proof, while still in the original shipping container. No request of replacement or refund can be reviewed or approved without photo evidence. Once the photos are received, there will be a required period of review to verify any damages. A product may be required to be returned to us at customer expense to complete the review.

If a seal has been broken or removed from the packaging, the item cannot be requested replaced due to damage.

If a package has been damaged during shipping, we may provide a refund, less shipping charges, or offer a replacement product after the review period is completed.

Cancellations are not available once the item has been produced.  If you would like to cancel an order, please contact us immediately to confirm whether the order has been processed. If the arrangement is determined to be completed, we will not be able to issue a refund due to the fact that we have already incurred an expense to complete the arrangement and you agree that such amounts may be deducted from any payments previously made to Eternal Roses®.

Any item that is marked "Return to Sender" will incur a $50 restocking fee (plus loss of original shipping fee) unless re-shipping arrangements are made and the new shipping charges collected. 

Any item that is Returned to Sender must be in original, undamaged condition to qualify for any type of refund.

In most cases, Shipping Charges are non-refundable. Instances where the item was damaged by the shipper and claim has been paid for this will include shipping reimbursement.

Please contact us at customerservice@eternalroses.com for more information.

LOST OR MISSING ITEMS

If your item does not arrive or tracking shows that it has arrived and you cannot locate it, please let us know so that we can contact the shipping company that was utilized and verify the status.  

If an item is shown as delivered, but you cannot locate it, there are steps we must take to discover the location. Contacting the carrier is the fastest way to determine what may have a happened.

In the event that you are still not able to find the item, a lost item claim will need to be filed. In most cases, we will do this process for you.  We do not authorize refunds for items lost by the shipping carrier unless funds are able to be recovered from the carrier that has handled the item delivery. As all items are hand made or custom made to order, they cannot be refunded for issues that are beyond our control, but we will do all that we can to assist in the item recovery or monetary reimbursement from the carrier.

The result of the claim will be reviewed by our management. Any decision will be based on all available information and will be made in regards to any refund or replacement requests. Until the review is complete, no concessions in this regard can be made.

  

OTHER HELPFUL TIDBITS ABOUT SHIPPING

Please double-check shipping address before submitting your order for preserved roses or rose gift boxes and centerpieces. Eternal Roses® cannot be responsible for orders delayed or returned due to incorrect or non-deliverable addresses provided by the customer.

We realize that you may want to send a gift as a surprise. However, in order to prevent delays, we recommend you notify the recipient of the shipment prior to arrival. Also, we encourage you to include gift note at checkout so that your recipient knows to thank you.

Please make sure that the delivery can be made without issues accessing your shipped to location. If there is a gate, security, or if the location may be closed, please be aware of that prior to ordering and shipping to that location.
Care Instructions

How To Care For Your Eternal Roses

There is nothing more important to us than selling the highest-quality products. The forever rose products we feature are an investment to be enjoyed for years to come. 

We have traveled the world in search of the best materials in order to create the perfect combination of beauty and function. We have also meet or exceed all government and third party safety standards. If we are not willing to use it in our own home, we will not sell it! 

Care And Handling Of Your Eternal Roses

The best way to care for your arrangement or rose gift box is with a minimum of care. Very little is required on your end but to cherish them for many years.

The roses in our products are real and naturally grown, therefore they will be delicate. Yes, they are preserved fresh flowers, but they are preserved in order to maintain their natural beauty and appearance. You will soon realize they both look and feel like any fresh cut rose.  

Tips for maintaining your preserved flowers 

In order to best maintain these forever roses, there are a few things to remember:

Do not handle or touch the roses unless absolutely necessary. The natural oils in our hands can damage the flower and repeated touching will break off pieces of the petals. The best practice is to keep touching to a minimum.

Do not water the roses. These flowers are no longer alive, so they do not require watering!

Keep the roses out of direct sunlight. Sunlight can cause the colors of the roses to dim or fade, so it is best to keep your rose gift box away from the sun.

If you need to clean your eternal roses, only do a light dusting with a soft dusting tool.  Do not wipe down or spray with chemicals, this will damage the roses.

Environmental factors can sometimes damage the roses. Differences in heating, cooling, fragrances, and placement in your home can cause the flowers to degrade at a faster or slower rate. Climate and Humidity are also important factors. 

 

We cannot account for each and every factor that may or may not have an adverse effect on the roses and rose gift boxes. Please always take care, but realize that natural products such as these are all unique and vary in their ability to withstand the environment they are placed in.  




Share
View full details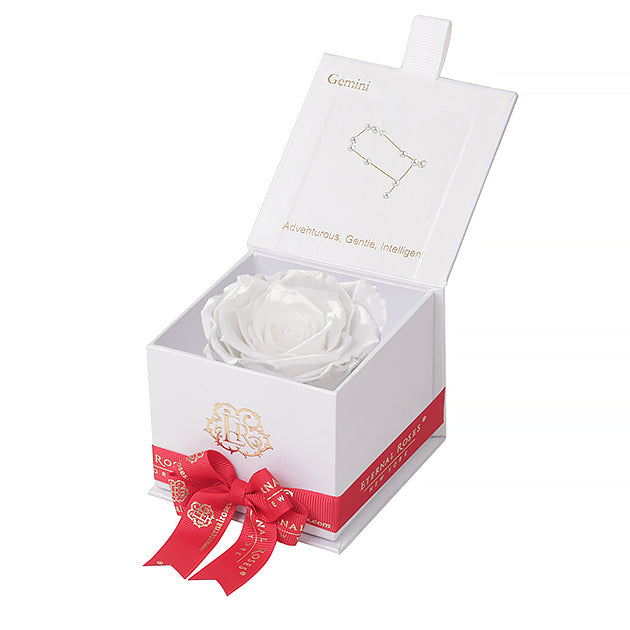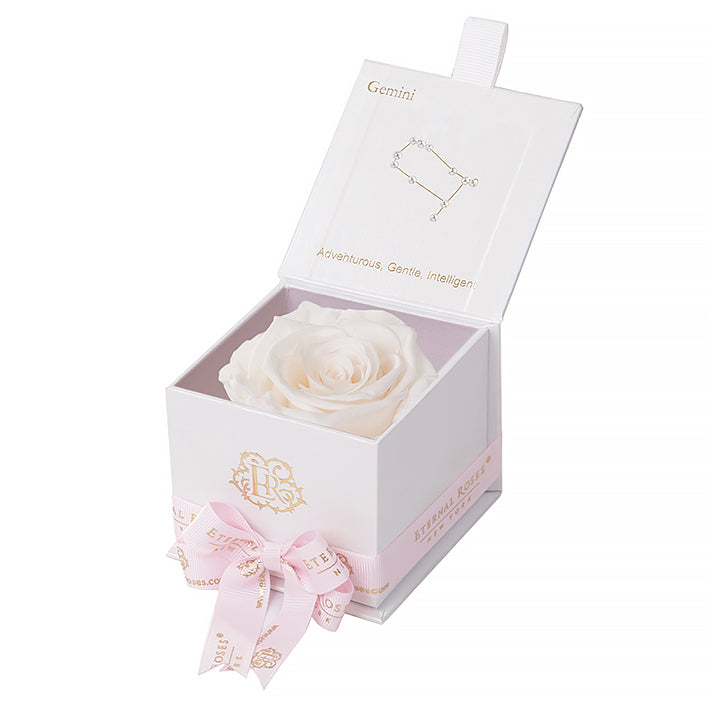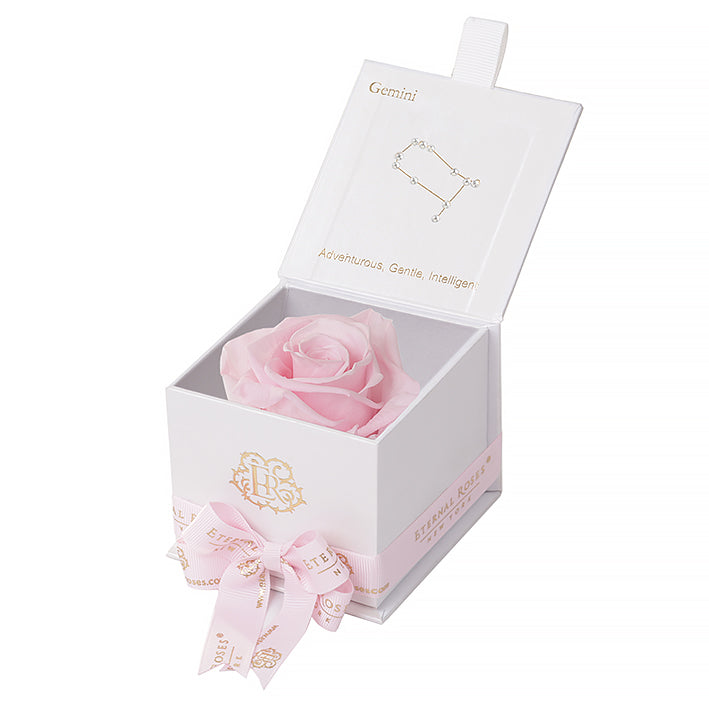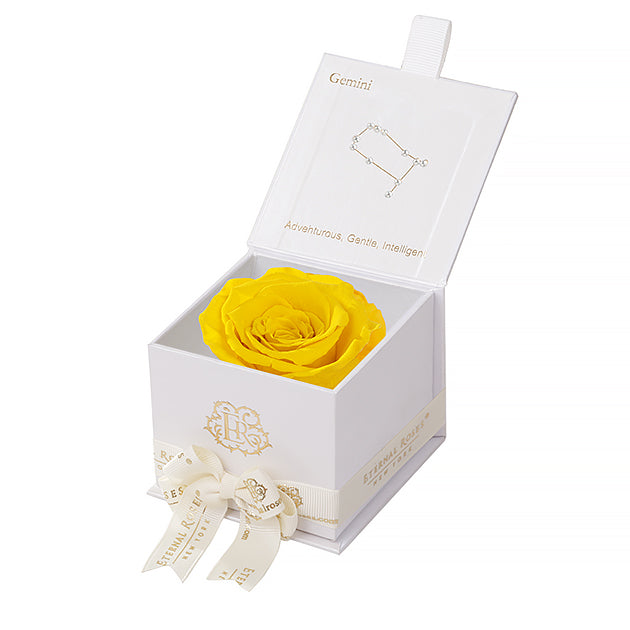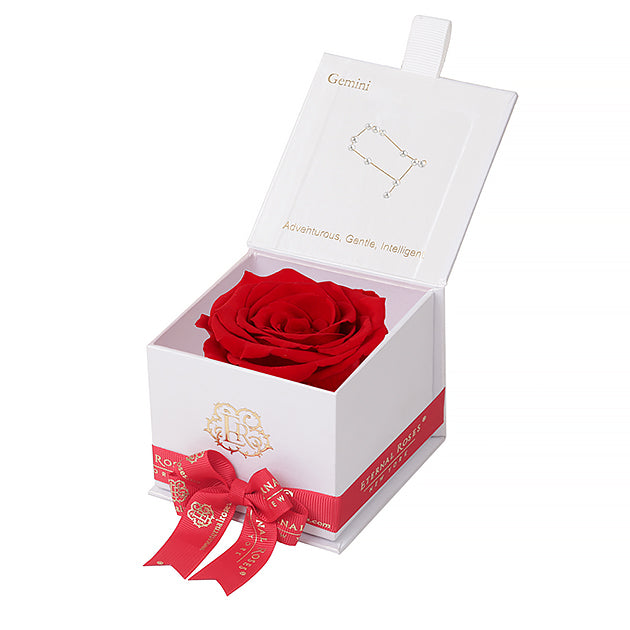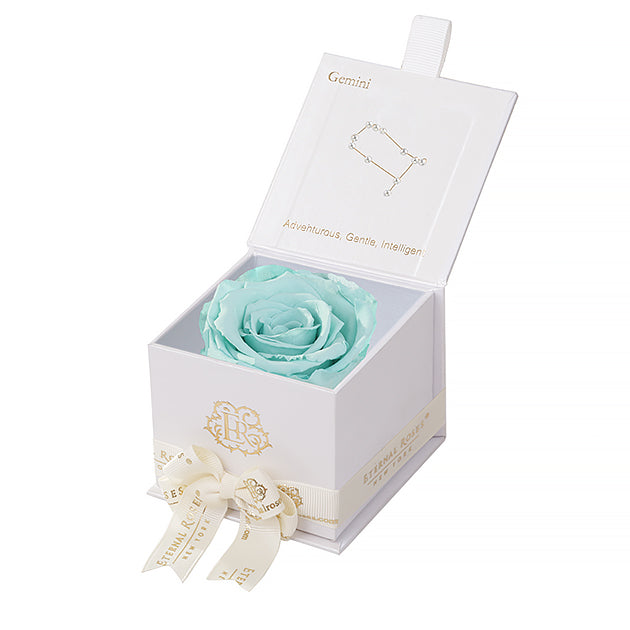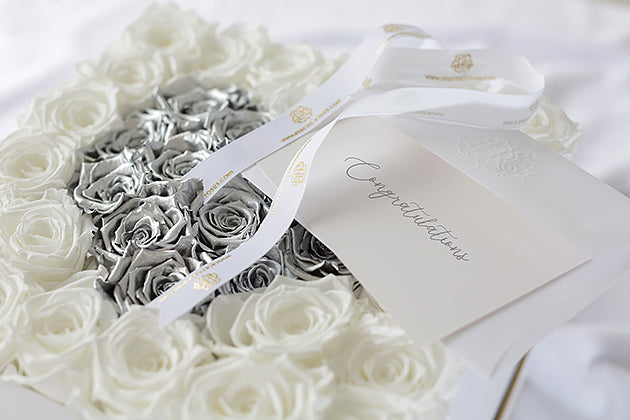 Shop With Us
Eternal Roses® was founded out of a love for beauty & design. We also realized that a key element of practicality in a floral gift was missing — long lasting roses. We are very passionate about creating elegant pieces, incorporating artisan products, and sustainability.
However, first and foremost we are busy parents to two small children under the age of five, so we always look for multiple purposes in products. We wanted our gifts to become something that can be enjoyed as home decor.
Our hectic, family-focused lifestyle led us to believe we could give our customers the flexibility of enjoying a gift that can be displayed and admired in any space, but also be utilized for different means in the future. 
While trying to make this experience as perfect as possible, we decided there is no better way than to make a luxury rose gift cost effective and effortless. Once it arrives, simply take it out of the box and display it anywhere in your space.  
As with any of our luxury rose gift boxes, the "WOW" factor is a guarantee!